Why did you choose to attend the University of Miami?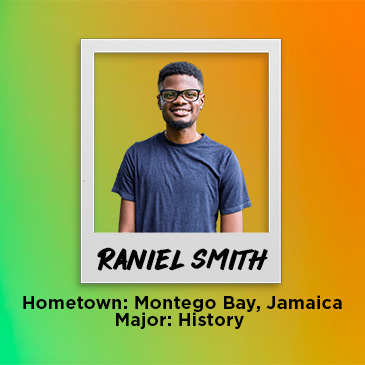 If I were to stay home, I probably would have gone straight to medical school because it's an undergrad program in Jamaica, and I wasn't sure what I wanted to do yet. I hadn't explored enough, I always thought I wanted to be a doctor but at one point I was thinking "maybe not," so I was drawn to the US, specifically because of UM, because there are so many programs. You have the opportunity to change and explore and find yourself along that process, here I am in history after starting as a bio major. Miami is also not too far from Jamaica, not just location, but also in culture and the weather too. I really wanted a college experience that was more international in outlook, like people from a lot of different places around the world.
Why did you choose your major? What's your favorite thing about it?
I went to my first biology class and realized then that I do not enjoy biology as much as I thought I did. After that I changed to microbiology and chemistry, I enjoyed them but I would say I sort of realized it was not that fun. I've always secretly loved history, but coming from Jamaica where we focus more on STEM subjects, transitioning to the humanities was sort of a big step because it's not considered important in that culture. Finding a specific source of history that I wasn't interested before, not only has it been interesting but the opportunities to sort of integrate into the world of an academic historian has been really fulfilling.
What is your favorite class you have taken at UM?
Imperial Russia with Krista Goff and Victorian Britain with Philip Harling in the classes for my major. Overall, first year writing course, I really love English and that course really set my mind up that I was going to have a good experience here.
What professor has had the biggest impact during your time here?
Doctor Thomas, he's a medieval historian, I've taken three classes with him. It's been really great, he's a great professor.
What advice would you give to an international or far-from-home student?
Two things: one, going far away gives you an opportunity to grow more than staying in a place you're fully comfortable in. It will challenge you to grow as a person, student, thinker and you'll gain more opportunities and an international perspective that you might not have had if you stayed in your own small bubble. Second: even though you're going far away, you'll find people that are remarkably similar to you. You'll be able to find your niche here regardless of where you're from, what your background is and what your belief is. It might seem terrifying, in some ways it is, you'll find your group of people that you definitely fit in.
What activities are you involved in on campus?
I was actually on the executive board for the Marine Animals Rescue Club, it was a great experience and being passionate about the ocean I joined that club, I had a great time. Also I'm involved in the Baptist Student Union.
What is your favorite place on campus?
To study, the seventh floor of the stacks in the library. I know that's very specific but you could hear a pin drop, there are not many people. And I like to hang out by the lake, just by the water, its beautiful. My favorite food on campus is Smoothie King, I love smoothies.