Why did you choose to attend the University of Miami?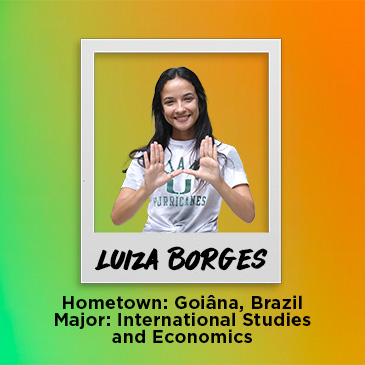 I transferred to UM in my junior year. I went to a smaller college before in a smaller city, and I felt like being in Miami, I would have access to more opportunities, not only career-related, with a bigger alumni network and more networking opportunities, but I would also have more classes to choose from, and more chances to complement my education with different areas of study.
Why did you choose your major? What is your favorite thing about it?
I chose to study international studies because I have always been interested in a number of different subjects – like history, politics, languages, and law - and IS allowed me to combine all of these different areas into a single major. I am also interested in different global issues, such as immigration, poverty, and inequality, and I felt like international studies would give me a framework to understand these issues while also allowing me to think critically of solutions on how to work towards solving them. I chose economics only once I was already in college and I took my first econ class, and realized that the major would give me a different set of skills, more quantitative, to better understand the world and our society, as well as the issues we have today. I think my favorite thing about my two majors is just that - how they allow me to better understand the world we live in, how people interact with each other, and how to solve some of the most pressing challenges we have to deal with today.
What is your favorite class you have taken at UM?
My favorite class was one called International Political Economy, with Dr. Gómez-Mera in the international studies department. It was interesting because it studies the intersections of economics and politics and the way one influences the other on an international level.
What is your favorite place to hang out on campus?
I love studying at the tables by Ashe, there is a lot of greenery in that area and it looks so pretty! The terrace on the third floor of Shalala overlooking the lake is also a pretty view.
What professor has had the biggest impact during your time at UM?
In all of these areas I've been exposed to with my studies, I found really knowledgeable and passionate professors, who were always available when I needed, not only to talk about academics but also about career plans and to give advice. All of them contributed to my education in different ways, and I think it is this broad range of areas that we have access to in the College of Arts and Sciences that make it such an unique, well-rounded experience for everyone.
What are you involved in on campus?
I work as the ASPIRE Program intern at the College of Arts & Sciences, which has allowed me to work on a number of projects related to the development of the College, providing a student perspective on a lot of the work they do. I'm also a Cabinet member at COISO, the Council of International Students and Organizations, where I help to put on events to bring the international student community on campus together and promote cultural diversity. I'm part of Tau Sigma, the national transfer honor society, and Sigma Iota Rho, the International Relations honor society, as well.
What advice would you give to a future student?
I would say to take advantage of all the resources we have available for students! We have so many amazing organizations here that students can get involved with, which is a way you can develop a number of skills and contribute to something that you are interested in. Professors can also be a great resource, not only in everything they can teach us but also in sharing their knowledge and expertise for future career paths, and they can provide a great perspective on the types of jobs you can have if you work in their field. We also have a huge network of alumni who can help you get positions at top companies and can help you get to where you want in your career - so make sure to utilize that!
What is your favorite resource available to students on campus?
I don't have a favorite, but I would say the Counseling Center is an amazing resource for providing free counseling for students. I also would have not gotten my summer internship if it wasn't for ASPIRE and the connections I was able to make through the program, so I would recommend students to utilize these resources as well if they are looking for internships!
What is your favorite spot in Miami? / Favorite thing to do in Miami?
Going to the beach is my favorite thing about living in Miami! But I also love going out in Brickell, and especially walking by the Riverwalk. It's such a pretty view and there is always so much going on there.