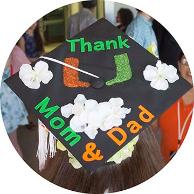 As parents and family members, the more you know about the College of Arts & Sciences and the University of Miami, the more knowledgeable and prepared you will be to assist and guide your student during his or her academic career at the University. Your role during this significant period of transition is important! Whether your student is new to the College of Arts & Sciences, or returning for another year, we hope that this Parents and Family guide serves as a valuable resource for you and your student. From learning about Family Orientation to understanding the essential benefits of staying connected after graduation through the University of Miami Alumni Association, the Parents and Family guide provides much-needed information you can utilize and apply to encourage and support your student, and to stay informed.
Life on Campus:
The academic experience in the College and at the University is enhanced by a rich residential environment and setting that inspires students to complement their academic focus in a number of ways. It is with this in mind that the University offers programs and services that encourage students to participate in and contribute to the broader campus community. Moreover, our students bring a diversity of experiences, beliefs, and identities to bear on their studies and their lives outside the classroom, all of which contribute to the multicultural profile representative of University of Miami students.  Further information is provided by Housing & Residential Life.

Commencement:
Each May and December, the University of Miami confers honorary, graduate, medical, and undergraduate degrees at Commencement. It is a time of ceremony when traditions of the University are honored. There are a number of related events for graduating undergraduates, their parents, and other family and friends. All details are provided on the Commencement website.
| | |
| --- | --- |
| Important Contacts | Phone Numbers |
| Emergency |  Contact 911 |
| University of Miami Police Department* | (305) 284-6666 |
| Counseling Center* | (305) 284-5511 |
| Dean of Students Office | (305) 284-5353 |
| Housing and Residential Life* | (305) 284-4282 |
| Sexual Assault Resource Team* | (305) 798-6666 |
| Student Health Service | (305) 284-9100 |
| Office of Disability Services | (305) 284-2374 |
| Vice President for Student Affairs | (305) 284-4922 |
| Ombudsperson | (305) 284-4922 |
| Office of Emergency Management for Weather-related or On-Campus Emergencies*  | (305) 284-8005 |
*A 24-hour resource or will connect you to one that is available.