Why did you choose to attend the University of Miami?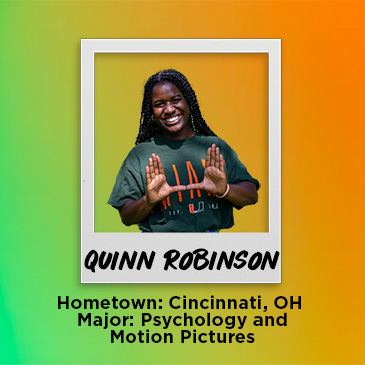 I was looking at schools in Florida because my parents grew up here, I have a lot of family here, but I also hate the cold, so I was looking at schools here in Florida with good psychology programs. My junior year we came for a tour and I just fell in love with it on that tour.
Why did you choose your major?
I'm majoring in psychology and motion pictures. I took AP psych in high school and I loved it, and I decided that's what I was going to do. Double major combo: I originally came in wanting to be a psychologist, that was my plan and I slowly realized that wasn't the direction I wanted to go and added film as a major. I still enjoy my psych classes so I'm glad I can do both, and it kind of does tie into film even though I didn't intend that but when you're making films you want to tie in human truths.
What is your favorite part of your major?
My favorite part is the professors, I enjoy the class discussion specifically. I had a psychology of gender class and I feel like we laughed the entire time, because we were having super candid conversations about what we were learning. That makes it fun. I really enjoyed Patrice Saab, she's awesome, she taught the psychology in gender and she's from Ohio too so that was fun.
What are you involved in on campus?
I'm a P100, in Delta Kappa Alpha a gender inclusive cinematic arts fraternity, and I recently started a jump rope club on campus called Jumping 'Canes, it's super, super new. I'm also in Black Creatives Collective and Athletes in Action.  Being involved on campus helps build community, especially in the beginning when I got here getting acclimated is really finding your people and making friends. The best way to do that is to get involved. Getting in clubs and organizations helped me feel more at home because I have other people here that are like-minded.
What is your favorite place on campus?
In the comm school there's a little outdoor courtyard on the third floor balcony type place with tables to sit out, I like to study there. I still find new spots even today though! And if I'm on campus I like to hang out on the Lakeside Patio, that's always nice. When the sun isn't too hot, I like to sit out there. I love all the different events that happen, there's always something going on here on campus. A couple months ago I went to an event with my friend, and it was in Shalala, in the ballroom, it was early 2000's themed roller skating.
What is your favorite resource to utilize?
Topple (Career Center), I've only been there once and they have a photo booth for headshots, it's free and they came out great! Topple in general, they have a ton of career prep resources. My friends and I love going to Zumba at the Wellness Center on Thursday nights and it's always fun and good energy. The Camner Center as well, you can have two hours of free tutoring per class, per week, that's a really big one. If you're struggling with a class that's something to take advantage of; the students tutoring that class got an A in that class with the same professor previously.
What is your favorite memory so far at UM?
Homecoming my sophomore year was super fun, my freshman year was the Covid year, so we didn't have the usual homecoming fun that year. I was a cheerleader my first two years so getting to cheer at the game and a bunch of my alumni cheer friends came to cheer the last quarter of the game, so that moment is definitely up there.
What advice would you give to a future student?
The University has a ton of resources and gives great support to adjust to being in a new place. Everyone in college has an RA in their dorm, but we have first-year fellows, which are so great and I remember my first year I would go to mine to help me navigate that first year of classes. We also have the counseling center on campus which is super helpful; sometimes you get lonely and really homesick and it's great to have resources if you start to go through that. You've gotta at least give it a year. Give it a year and come back, people think it'll be easier transferring and going somewhere else, but you have to give it time. College takes a minute to find your footing and make friends, time is important.