Art & Art History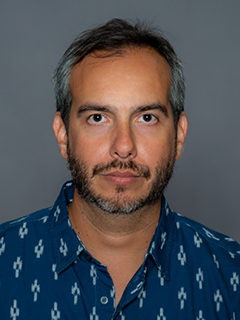 Ivan Santiago
Lecturer
Ivan Santiago, M.F.A., is a Miami native and a dedicated photographer who has shared his passion for digital photography through teaching around South Florida. He graduated from Florida International University with a dual focus on Photography and Art History. Additionally, he earned a bachelor's degree in Anthropology.  
During his time in Miami, Ivan delved into researching the history of photography, drawing inspiration from the landscape representations found in the New Topographic movement. He skillfully contextualized this inspiration as a means to capture the tension arising from the disappearing landscapes within the urban sprawl of South Florida.   
His artistic focus primarily revolves around austere landscapes, with a keen interest in subjects such as uninhabited storefronts, urban decay, warehouse facades, and other visual indicators of the intersection between the changing climate and economics. 
Biology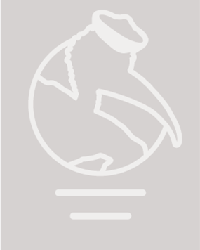 Giovanni Hanna
Lecturer
Dr. Giovanni Hanna is an enthusiastic lecturer with a passion for evolution, genetics, biotechnology,  and history of science. He has taught for more than three years on four campuses in San Diego, including at UC San Diego, San Diego State University, and at Grossmont and Palomar Colleges. After receiving his PhD in the study of evolutionary genetics and genomics with Dr. David Begun at UC Davis, he then taught classes in evolutionary biology at his alma matter before moving to Miami. 
During his MS and PhD studies, Dr. Hanna focused on the evolution of reproductive tissues among others and became a specialist in the study of female reproductive organs in fruit flies. Separately from his work with insects, Dr. Hanna truly enjoys the sharing of old and new knowledge, having  taught more than 20 classes and TA'ed over 30 classes over the past decade.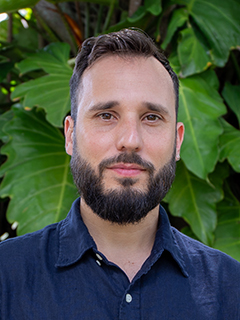 Antoni Luque
Associate Professor
Dr. Luque is a biophysicist who studies the molecular structure and dynamics of viruses using biophysical modeling, artificial intelligence, and bioinformatics. He earned his Ph.D. at the University of Barcelona and was a Postdoctoral Fellow at New York University. Dr. Luque joined the U in 2023 as an Associate Professor in the Department of Biology after eight years as a principal investigator at the Viral Information Institute at San Diego State University. Dr. Luque has established the generalized theory of viral capsids, guiding the discovery of unknown viruses and the development of new vectors for gene therapy. 
Chemistry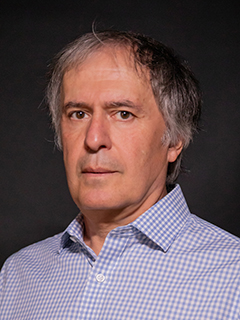 Konstantino Agrios
Lecturer
Dr. Agrios is a native of Athens, Greece. Following completion of his undergraduate work there, he moved to the United States where he obtained his Ph.D in synthetic organic chemistry under the mentorship of Prof. Morris Srebnik. He was a postdoctoral associate in the laboratories of Prof.  Jeff Aube and Prof. K.C. Nicolaou. His professional career included appointments as a drug discovery scientist in two pharmaceutical companies, Abbvie and Incyte, where he worked on various projects in oncology, metabolic diseases as well as CNS disorders. He joined the University of Miami as a Lecturer of Organic Chemistry on August 15, 2023. Prior to that, he held an academic position at Villanova University as a continuing Assistant Professor. There, in addition to his teaching responsibilities, he established a medicinal chemistry laboratory where undergraduate and M.Sc students were trained in the design and synthesis of small molecules to be used for the potential treatment of rare diseases. The complement system and the alternative pathway of complement were the focus of his research group. His laboratory identified novel and potent Factor D inhibitors for the potential treatment of complementopathies such as PNH and aHUS. 
Classics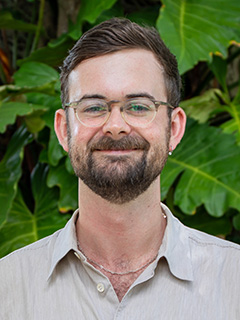 Paul Johnston
Visiting Assistant Professor
Paul Johnston received his B.A. and M.A. from the University of Auckland in New Zealand and his Ph.D. in Classical Philology and Comparative Literature from Harvard University before joining the University of Miami in 2023. His research interests range widely in the literature, culture and history of the ancient Mediterranean (and beyond). He has published articles on Athenian tragedy, ancient Greek onomastics and the reception of the classics in the work of the Korean American writer Theresa Hak Kyung Cha. His current book project explores the Greek and Latin literatures of the Roman empire as the product of a bilingual cultural system closely intertwined with the Roman state. 
Computer Science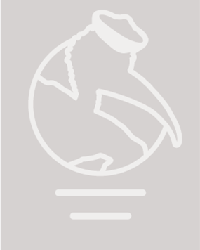 Stephen Dennis
Professor of Practice
English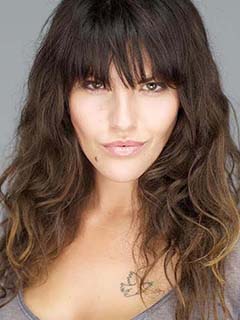 A.J. Bermudez
Visiting Assistant Professor
A. J. BERMUDEZ is an award-winning writer, director, and educator. Her first book, Stories No One Hopes Are About Them (University of Iowa Press, 2022), won the Iowa Short Fiction Award and was a Lambda Award Finalist. Her work has recently appeared in The Kenyon Review, Virginia Quarterly Review, LitHub, Columbia Journal, and elsewhere. She is a recipient of the Diverse Voices Award, the PAGE Award, the Pushcart Prize, the Alpine Fellowship Writing Prize, the Steinbeck Fellowship, and the Outstanding Teaching Fellow Award at Boston University. She is thrilled to be joining the community at the University of Miami. 
Geography & Sustainable Development/Architecture
Sarbeswar Praharaj
Assistant Professor
Sarbeswar Praharaj (Ph.D.) is joining the University of Miami as an Assistant Professor (tenure-track) with shared responsibilities between the Department of Geography & Sustainable Development and the School of Architecture. He previously served as the Associate Director and Assistant Research Professor at the Knowledge Exchange for Resilience at Arizona State University. Sarbeswar holds a Ph.D. in Urban Planning and was also a postdoctoral researcher at the City Futures Research Center at UNSW Sydney, Australia. Sarbeswar's research and teaching interests combine critical applications of geospatial data science and smart city technologies for shaping more inclusive, sustainable, and climate-resilient communities. 
History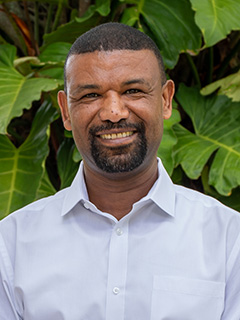 Etana Dinka
Assistant Professor
Etana H. Dinka (PhD) joined the University of Miami as an assistant professor of history in July 2023. He received his PhD from the School of Oriental and African Studies (SOAS) in 2018, an MA from Addis Ababa University (2007) and a BED from Alemaya University (2002). Before joining the University of Miami, he was an assistant professor at James Madison University (Virginia, USA), where he taught undergraduate and graduate history courses, a visiting assistant professor at Oberlin College (Ohio, USA), a lecturer at Adama University of Science and Technology (Ethiopia) and Hawassa University (Ethiopia) and held Graduate Teaching Assistant positions at the School of Oriental and African Studies (SOAS), University of London (UK). His research interests focus on the dynamics of state-making projects in Ethiopia and the Horn of Africa, histories of competing nationalisms in modern Ethiopia and the Horn region, environmental history, and Oromo-Ethiopia-historiographies. His latest works have been published in the Georgetown Journal of International Affairs, the Journal of African History, Northeast African Studies, African Studies Review, and the Journal of Oromo Studies.  
Mathematics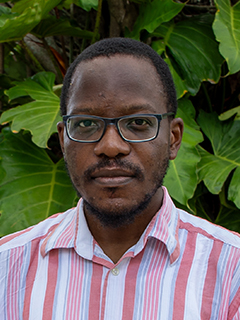 Rene Mboro
Assistant Professor
Rene Mboro earned his Ph.D. in Mathematics at Ecole Polytechnique, a member of Paris-Saclay University in France.  
He then held postdoctoral positions at the University of Vienna (Austria), at the University of Bonn (Germany) and at the Institute of Mathematics and Informatics of the Bulgarian Academy of Sciences (Sofia, Bulgaria) before arriving at the University of Miami a first time in 2022 for a postdoctoral position and this year to join the department of Mathematics as an assistant professor. 
Rene Mboro's research interest lie in algebraic geometry, more specifically in the study of birational invariants relevant for rationality problems and of the topology of algebraic (smooth projective) varieties. The themes of his current research include the properties of the intermediate Jacobian of a cubic fivefold and the topological restrictions on Lagrangian submanifolds of projective hyper-Kaehler manifolds.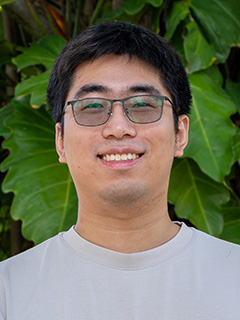 Kaiqi Yang
Research Assistant Professor
Kaiqi Yang is a Research Assistant Professor in the Mathematics department of the University of Miami. His research interests focus on birational geometry, in particular, equivariant birational geometry. Kaiqi received his Ph.D. from New York University in 2023.  
Michele Bowman Modern Languages & Literatures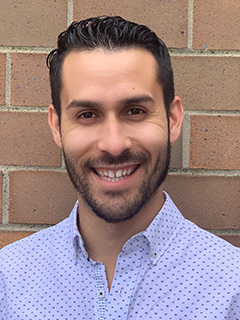 Hernan Rivera Rosario
Lecturer
Hernán Rosario is a linguist with expertise in Spanish and English, specifically in phonetics, code-switching, and languages in contact. His research centers on bilinguals and second language learners' production, attitudes towards language mixing, as well as other aspects of bilingualism. As an accomplished educator, he teaches Spanish, English, and Spanish as a heritage language. Hernán is deeply enthusiastic about the role of music in the process of enhancing the teaching of Spanish and culture.  
Philosophy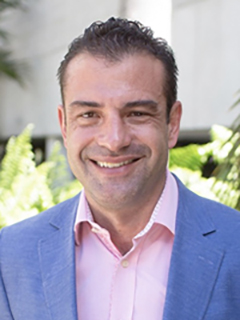 Arturo Leyva Pizano
Lecturer
Arturo Leyva Pizano obtained his Ph.D. from the University of Miami. His areas of philosophical interest are the overlap between neuroscience and philosophy, philosophy and its connections to the behavioral sciences, philosophy and the health sciences, philosophy of mind/4E cognition, phenomenology, non-human animal studies, philosophy of movement and sport, and philosophy of film.
Physics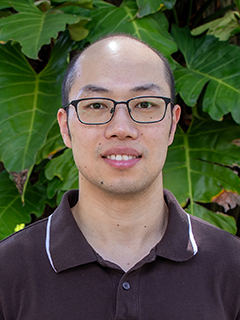 Kun Wang
Assistant Professor
Kun Wang is currently an Assistant Professor in Physics at the University of Miami (UM). Prior to UM, he was an Assistant Professor in Physics and Chemistry at Mississippi State University from 2020-2023. He received his Ph.D. in Physics at the University of Georgia in 2016. After that, he worked as a Research Fellow at the University of Michigan, Ann Arbor. His research interest focuses on exploring intriguing physical and chemical processes at the atomic and molecular scale. He is the recipient of the U.S. DOE Early Career Award, JMCC Emerging Investigator, and MRS Graduate Student Award.  
Political Science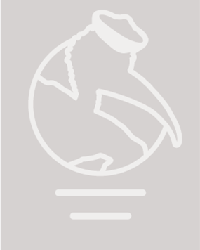 Sarah Chung
Visiting Assistant Professor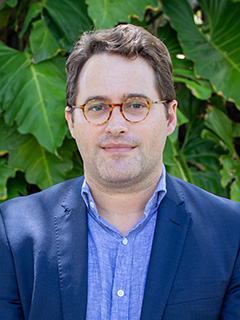 Raymond Orr
Professor
I am the Elizabeth B. White Endowed Chair and Professor of Political Science. Before joining UM, I was the Mae and John Hueston Distinguished Professor in Native American and Indigenous Studies and Associate Professor at Dartmouth College. My prior appointments include serving as the Department Chair of Native American Studies at the University of Oklahoma and teaching comparative and Indigenous politics at the University of Melbourne, Australia. I received my PhD in Political Science from UC Berkeley and have been a post-doctoral fellow at Princeton's Department of Politics, Yale's Program in Race, Ethnicity and Migration, and the University of Washington's Native Elder Research Center. I am currently a Senior Fellow at the Atlantic Institute for Social Equity at The University of Melbourne.  
Theatre Arts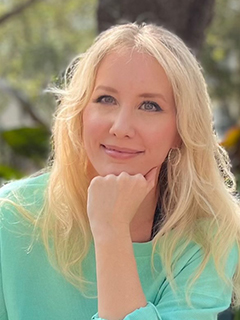 Christine Mazeppa
Lecturer
Christine Mazeppa a teaching artist based in Miami, Florida. Before joining the University of Miami Theater Arts faculty, she taught dance and language arts to high school students for Miami-Dade County Public Schools. She completed her undergraduate work in dance at Point Park University and went on to earn an MS in Educational Leadership from Florida International University and most recently her MFA in Choreography from Jacksonville University in 2022. Christine is very excited to be at the University of Miami and is looking forward to sharing her passion for dance with her new students.
Shuyu (Tom) Zhang
Lecturer
Shuyu (Tom) Zhang is an emerging stage manager from China. He received his MFA in Stage Management from the University of Illinois Urbana-Champaign, and his BA in Journalism from Zhejiang University. He's worked in both China and the U.S., doing stage management, tour management, and arts management. He is a big fan of musicals and his dream is to work on a professional Les Miserables production. 
Writing Studies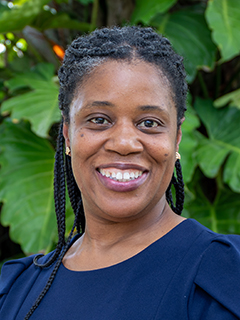 Tenecia Bradley-Cousins
Lecturer
Tenecia Bradley-Cousins, Ed.D., possesses robust experience in the field of higher education at the faculty, staff, and administration levels. She has taught various postsecondary writing and supplemental courses. In addition, she has an extensive higher education background and expertise in student affairs and academic support. As a higher education professional, she has consistently contributed to the overall student success in public and private institutions. Her distinguished academic portfolio includes a Doctor of Education from the University of Florida, a Master of Business Administration from the University of Miami, and a Bachelor of Arts from Bethune-Cookman University.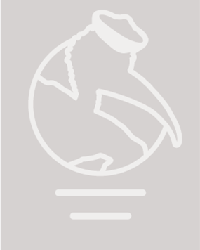 Victoria Calderin-Lemus
Lecturer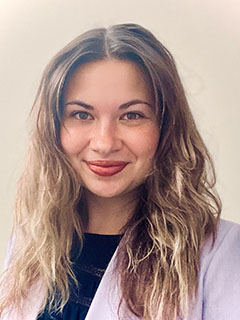 Anabelle Mahoney
Lecturer
Anabelle Mahoney earned an MFA in Creative Writing from Emerson College in Boston where she also taught as an Affiliated Faculty member in the Department of Writing, Literature, and Publishing. Previously, she earned a BA in Writing and Rhetoric from the University of Rhode Island. She is especially interested in feminist rhetorical criticism. Her creative work has appeared in The Twin Bill, Pink Panther Magazine, Chautauqua Journal, and elsewhere. She is very excited to be teaching in the Department of Writing Studies at UM.
Shane McFarlane
Lecturer
Shane McFarlane earned his MFA in Fiction at Florida International University where he became the first writer to win both FIU's 2019 Fiction Prize judged by Lisa Glatt and the 2019 Nonfiction Prize judged by Brenda Miller. His disciplines include fiction, creative nonfiction, memoir, essays, poetry, and journalism. He has been a journalist and the editor in chief of a literature and arts journal. His publications appear in several periodicals and literary journals including Hunger Mountain.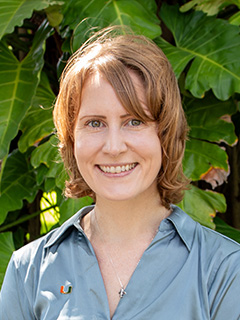 Kelly Millard
Lecturer
Kelly Millard was born and raised in Miami, Florida. Before coming to UM, she earned her Ph.D. in Applied Language and Speech Science from the University of Louisiana at Lafayette in 2022. She has an M.A. in Linguistics from Florida International University (2015) and a B.A. in English Literature and Spanish from Florida State University (2011). While studying at FSU, she also earned a Teaching English to Speakers of other Languages (TESOL) certificate. Kelly has presented at conferences and published research in the areas of linguistics and speech science.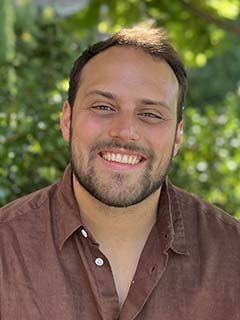 Jarrett Moseley
Lecturer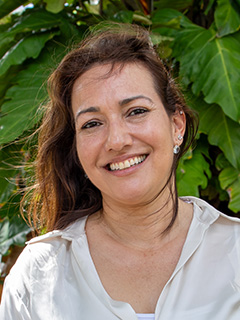 Stella Santamaria
Lecturer
Stella Santamaría was born in Los Angeles. She holds an MFA in Creative Writing from Saint Mary's College of California recipient of the School of Liberal Arts Dean's Award. Her manuscript California Silence has been nominated as a finalist for the Andres Montoya Poetry Prize by Letras Latinas Institute for Latino Studies, University of Notre Dame, in 2022. Her poetry has been recently published in Odes to Our Undoing Writers Reflecting on Crisis, Rising Phoenix Review, Islandia Journal, The Brooklyn Review, Acentos Review, The Rumpus, Nine Mile, Juked, and O' Miami, among others. Stella has received scholarships and fellowships from The Community of Writers, Under the Volcano, and Hedgebrook. Santamaría was an XM Sci-Fi Faculty Fellow for the Summer 2023 at Florida International University's Science & Fiction Lab. She was formerly teaching writing at Miami Dade College and creative writing at Saint Mary's College. Stella is excited to be part of the Writing Studies Department at the University of Miami.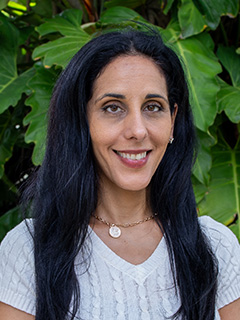 Monica Torres
Lecturer
At Florida International University, Monica Torres earned a Bachelor's in English and Psychology. She then taught Writing and Rhetoric at colleges while writing about the arts and culture in Miami. Her articles are published in Miami New Times, Art Slant, and miamiartzine.com. Two of her poems are published in Sinking City. Her writing focuses on the city of Miami, its vibrant Culture and challenges like sea-level rise. She has a Master's of Fine Arts in Creative Writing, Poetry from Converse College. She taught at Barry University as an Adjunct Professor in their First-Year Writing and Rhetoric Program.