As a member of the Advanced Program for Integrated Science and Math (PRISM) Honors program, you won't just memorize formulas, you'll see how they come together in medicines, treatments, and technologies with a real-world impact. With your fellow PRISM student scholars, you'll embark on a journey through the known, and the unknown, make meaningful connections between disciplines, and uncover new solutions along the way. You'll thrive in smaller, more collaborative classes, surrounded by passionate and driven people, just like you.
---
Research
PRISM provides a strong foundation in math and science with an emphasis on scientific research. During your first year, you'll take labs in biology and chemistry. These courses will help you develop the research planning skills you'll need to tackle projects across disciplines. Ever dreamed of starting  your own research project? PRISM research stipends support students who wish to pursue original projects at faculty members' labs.
Any student completing the two-year PRISM program will receive a $500 award to be used in support of research activities.  This amount can be utilized in the following ways: (1) To support travel expenses incurred to present research in a conference or meeting, (2) to cover the cost of supplies for a research project or (3) to provide a stipend to the student during a period of summer research.*
---
Community
PRISM extends learning beyond the classroom with various special events, lectures, and field trips. These activities are designed to help you build relationships that could lead to future research opportunities and careers. PRISM faculty encourage students to ask questions, work together and collaborate. This helps reduce the competitiveness that is so common in the sciences.
---
Our Approach
PRISM courses teach students advanced science and mathematics in a smaller, more interactive classroom setting. This ensures you'll receive the individual attention you need as you delve into more challenging topics. Hands-on labs will exposes you to cutting-edge methods and technologies you  typically wouldn't see until later in your education.

---
Curriculum
PRISM brings together the top freshmen majoring in biochemistry, biology, chemistry, microbiology, marine biology, marine science, neuroscience, physics, physical therapy, and other natural sciences.
The curriculum program provides excellent preparation for careers in physical sciences, medicine, veterinary medicine, and physical therapy. If you are a STEM major, there are no extra courses or additional requirements.
Students who receive AP or IB credit for courses listed below can work with the PRISM advisor to design a customized academic plan.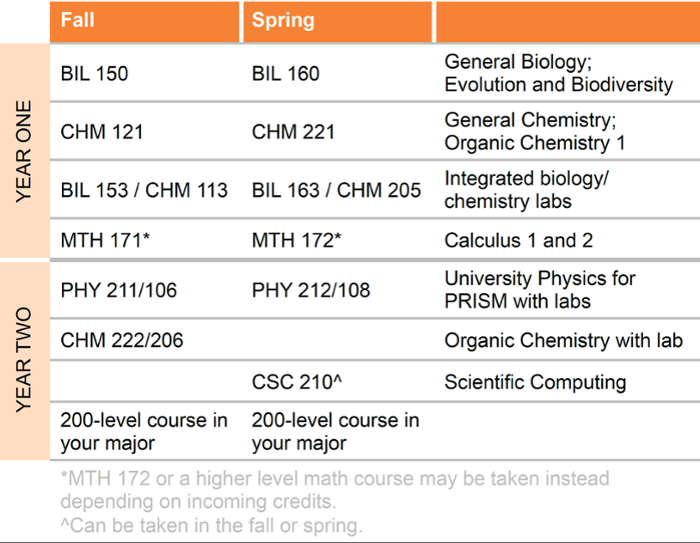 *NOTE: Please keep in mind that this award, like any other research awards, are now considered as a form of financial aid in accordance to U.S. government regulations.
---
FOR MORE INFORMATION, contact PRISM Director James N. Wilson at prism@miami.edu.
Invitations
Eligible students will be identified through their applications to UM and invited to participate in PRISM along with their notification of admission to UM.  Eligibility is determined through choice of major (STEM majors in CAS), eligibility to take calculus upon entry into UM (ACT/SAT quantitative component in 95th percentile or above), and a history of advanced courses in science and math (AP/IB/Honors/Dual-enrollment).
If you have questions about your eligibility or would like more information about the program, please contact the PRISM Director, Dr. James Wilson, at prism@miami.edu.