"Do activities you like – even if they don't directly align with educational or career goals. Enjoy college while it lasts."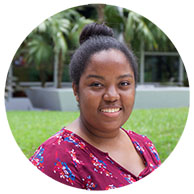 Natalia Beadle is originally from Jamaica and is majoring in Neuroscience and Religious Studies at the University of Miami. She has been active in various community service and social justice student organizations, and has even traveled to Guatemala on a service trip with Miami International Outreach.
What is the best part about being in your major?
 The best part about Neuroscience is gaining insight into human thought and action. It's still amazing to me how clusters of cells can ultimately cause complex behavior. Since neuroscience, as a field, is relatively new, there is always fascinating and innovative research to explore. Neuroscience also provides education in a diverse array of fields; it is associated with biology, psychology, chemistry, physics, computer science, and more. I enjoy my Religious Studies major because religion is a major force around the globe, and its origins, beliefs and practices, and effects on society are interesting. Like neuroscience, it can provide insight into human behavior, and it is interdisciplinary, often drawing from literature, history, anthropology, sociology, philosophy, psychology, art, and even biology. The interdisciplinary nature of both my majors has allowed me to study a variety of subjects, which I can use in my future career.
What accomplishments/achievements while at UM are you most proud of?
The achievements at UM that I'm most proud of are being involved with various community service and social justice student organizations. In addition to being involved in National Gandhi Day of Service, Miami International Outreach, and UM Alternative Breaks, I served as the president of Big Brothers Big Sisters of UM, a mentoring organization that matches college students with underprivileged elementary- and middle-school children in the Miami-Dade community. This program is known to have an enormous impact on both 'Bigs' and 'Littles,' with the latter experiencing improved mental health, increased college attendance rates, and decreased crime rates. Leading this organization has been a fulfilling and highly rewarding experience.
What is your favorite UM memory?
I attended a service trip to Guatemala with Miami International Outreach. We worked on various initiatives, including building houses, constructing stoves, working on a reforestation project, and more. We learned a lot about the people of Guatemala and Mayan culture. This trip instilled in me a passion for community service, which I've carried with me throughout my undergraduate career, and will carry into the future.  
What influenced your UM education the most?
The Da Vinci program diversified my education, especially in the first few years, when most of my other classes were pre-med science courses. The program heightened my interest in the humanities, eventually leading me to declare a second major in Religious Studies. It also allowed me to see that humanities can be and should be incorporated into the sciences, and understand how the humanities can enhance the sciences, and vice versa. My favorite Da Vinci class was 'Race Matters,' which incorporated science, history, and anthropology into discussions about race.
What advice would you give a future 'Cane?
Talk to professors, advisors, faculty and staff, and older students to learn about all the opportunities at UM. Education should be your number one priority, but don't forget to have fun also. Join student organizations – there's so many, there will be something you enjoy. Don't procrastinate too much. Do some research. Make friends who are like you, but also friends who are 'different' – so you can learn about others' experiences and perspectives. Learn from your professors. Major in something that you actually enjoy. Take classes that you like. Do activities you like – even if they don't directly align with educational or career goals. Enjoy college while it lasts.