Elana Schettini: "I love understanding how the brain works - from development to our senses, there is always more to learn."

Elana Schettini is a neuroscience major hailing from Allentown, PA, who is researching the attention networks in the brains of children with ADHD. She is currently a volunteer with Camp Kesem where she making a difference in the lives of children coping with a parent's cancer. Her goal is to become a neuropsychologist and continue her passion for making a positive change in the lives of many.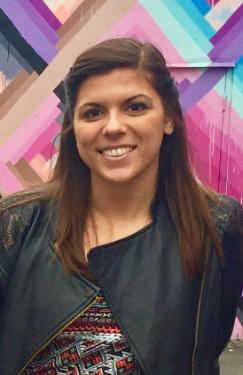 What's the best part of being a neuroscience major?

I love understanding how the brain works. From development to our senses there is always more to learn. When you're done learning about the facts you start to learn how to think further and more in depth. In my upper level courses we are encouraged to ask questions that don't have answers and design experiments that could potentially answer those questions in the future.
What research projects did you participate in at A&S?

I currently work in Dr. Lucina Uddin's lab, the Brain Connectivity and Cognition Laboratory, and I've worked there for the past year and half. For the past year I had been working on creating a database along with two other undergraduate students. This past summer I did the Psychology Research Initiatives Mentorship Experience (PRIME). I completed a project involving diffusion magnetic resonance imaging (dMRI). Using three functionally distinct subregions of the insular cortex, we identified white matter tracts throughout the brain. This semester I started my Senior Honors Thesis. I will be looking at the dorsal and ventral attention networks in the brains of children with ADHD using functional magnetic resonance imaging (fMRI) to analyze the differences of these networks in children with ADHD versus typically developing children.
Who or what influenced your A&S education the most?

Starting research has impacted me most here at UM. Before I started research I thought that I wanted to go to Med School. Then I realized how much fun it was to ask questions that no one knows the answer to and design and experiment to answer those questions. Also being in my lab has prepared me more than I could have ever wished for the real world after college. I plan on working full time in a lab for 2 years before applying for PhD programs in Clinical Psychology. Everyone in my lab not only helps with each of my projects, but also in the application process for jobs and graduate school. Not only have I figured out the path I hope to take after I graduate, but I also had a great team helping me so I knew what to expect.
What is your main UM extracurricular activity – why is it important to you?

Since freshman year I have been involved in an organization called Camp Kesem – a weeklong sleep away camp for children coping with a parent's cancer. CK is the only organization nationally designated specifically to helping this population of children. Each year I keep going back because I know that I can help to make this week the best that it can be and all I could ask for is to make these kids smile. They have to grow up so quickly and get involved in adult responsibilities due to their parent's illness. Some of these kids have gone through more in their first 5 years than I have at the age of 21. I started out in my first two years just being a typical cabin counselor. In my third year, I moved on to be one of the Volunteer Coordinators, responsible for recruiting, interviewing, selecting and training the counselor team for summer 2016. Now in my fourth year I am one of the Operations – Programming Coordinators; I am responsible for creating the schedule for camp and planning all of the programs for summer 2017. In each position I got to experience something new about CK and every year I look more and more forward to my time with my strong and resilient campers.


What are your plans after graduation?

I plan to apply to lab manager positions at neuroimaging labs. After two years of gaining full-time research experience I plan on applying for PhD programs in Clinical Psychology and do research in developmental neuroscience utilizing neuroimaging techniques. Ultimately, the goal is to become a Neuropsychologist.
If you were to offer advice to a future 'Cane, what would you say?

Get involved in organizations from the start, that is the best way to meet people. Once you figure out which ones you like then get very involved in one or two of those, and maybe a little less involved in the others. You want to be involved in organizations that you have a passion for and that benefit you and you benefit them. It's better to be very involved in less organizations than barely involved in a lot.
Are there any events that other A&S students should know about?

Camp Kesem applications come out in November! It is an amazing organization that provides a FREE week-long summer camp for children coping with a parent's cancer. We are the only organization nationally that caters to this population of children. These children really do deserve one week of childhood where they not only get to have fun but also build a family and support system of people that truly understand what they are going through. Not only is it fun for the kids but also for the counselors, you get one week every year to be a kid again! If you are interested contact miami.volunteer@campkesem.org.