Introduction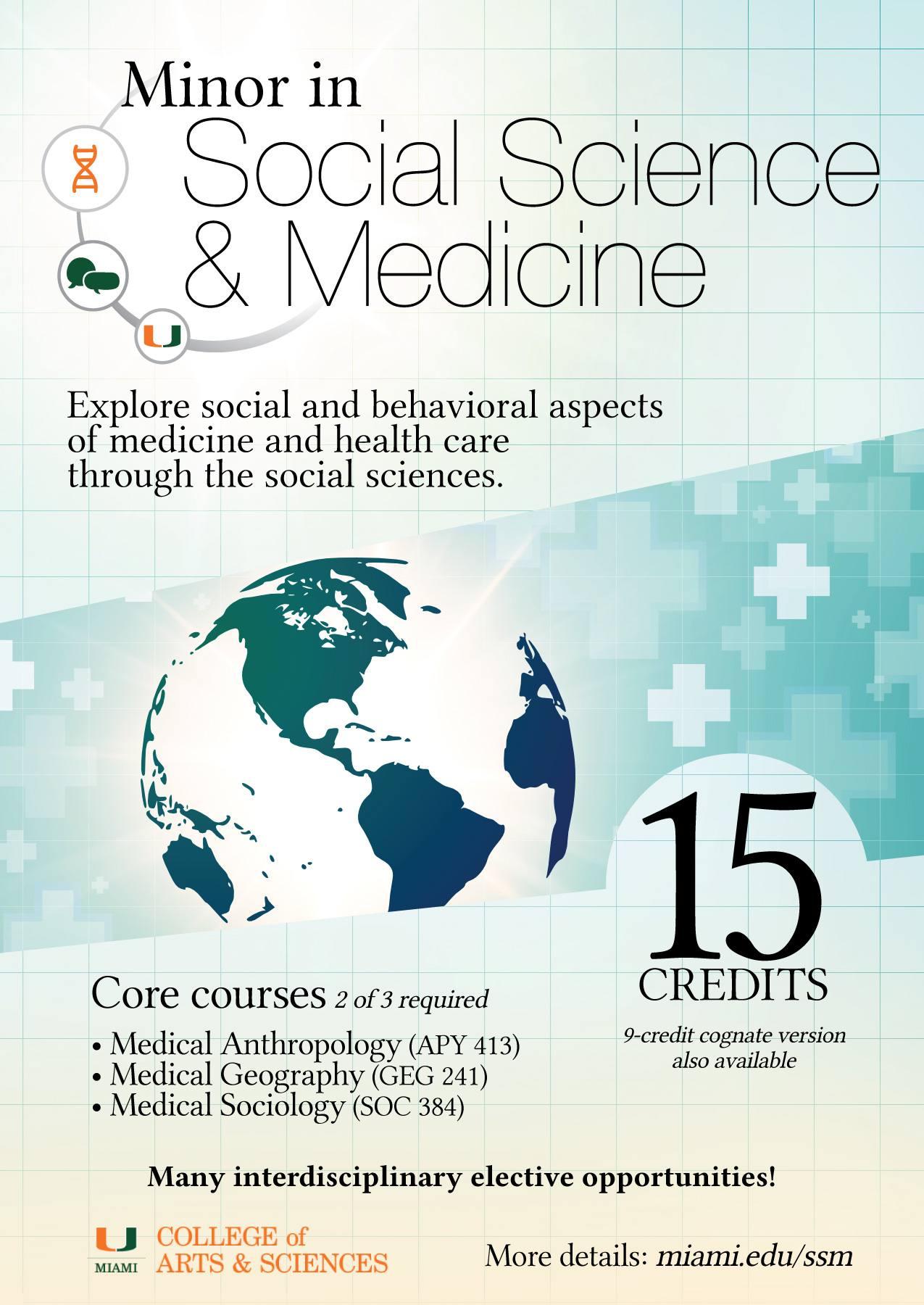 ‌The minor in Social Science & Medicine offers students the chance to explore social and behavioral aspects of medicine and health care through the social sciences. The medical social sciences are broadly relevant to many private and public service disciplines, and highlight the importance of an interdisciplinary platform for the empirical and theoretical interaction of social scientists, health practitioners, and policy makers.
The minor has a liberal arts orientation and provides an interdisciplinary Social Sciences curriculum that incorporates anthropology, communication, economics, epidemiology, geography, global health, international studies, policy, psychology, and sociology. The minor complements majors from all humanities, social science, and physical science disciplines and is particularly suited to students interested in careers in public health, medicine, the health sciences, health care management, and (non-)governmental organizations.
Educational Objectives
• Understand various social, cultural, geographic, economic, and political determinants of health and well-being. 
• Describe the influence and implications of these determinants on health behaviors, beliefs and outcomes. 
• Locate and appraise appropriate sources of information relevant to public health and medicine.
• Recognize how governmental and private-sector health policies affect patient and population health. 
• View public health and medical practice as the integration of the social, behavioral, and biomedical sciences.
Requirements
Students will complete 15 credit hours with courses approved for the minor in Social Science & Medicine, which satisfies the general education cognate requirement for People and Society. Students must earn a grade of C- or better in each course and maintain a cumulative GPA of at least 2.0 in all courses counting toward the minor.
• Students must complete 2 of the 3 core courses listed below.
• At least 6 credit hours must be taken at the 300 level or higher
• No more than 6 credit hours may be applied to the minor from a single department.
• One elective is permitted from those courses eligible for the minor in Medical Humanities.
Advising
For more information, please visit the Academic Bulletin or email the Social Science & Medicine program advisor, Dr. Justin Stoler, particularly if you have inquiries about credit for courses not listed below, such as Special Topics offerings, etc.  Click here to see eligible courses offered in the upcoming semester.
Required Courses (select 2 of 3)
APY 413 Medical Anthropology
Cross-cultural and historical perspectives on health and illness in human evolution.
GEG 241 Health & Medical Geography
Ecological, social, and spatial approaches to human health and health care services.
SOC 384 Medical Sociology
Sociological aspects of health, health care, patient behavior, and medical institutions.
Elective Courses
College of Arts & Sciences
APY 105 HIV: Sex, Science, and Society 
APY 205 Medicine, Health Care in Society  
APY 416 Bioarchaeology: Peopling the Past
APY 423 Paleopathology: Health & Disease in Ancient Peoples  
APY 512 Advanced Medical Anthropology 
ECO 386 Health Economics
GEG 335 Sustainable Food Systems
GEG 341 Population, Health, and Environment
GEG 343 Population, Sustainability, and the Media
GEG 345 Drinking Water: Past, Present, and Future 
GEG 346 Immigrant & Refugee Health
GEG 348 Climate Change & Public Health
GEG 412 GIS for Health & Environment
INS 509 International Migration and the Health Care System
INS 570 Globalization and Health
INS 571 International Development and Human Welfare
INS 572 Global Health Policy and Ethics 
INS 573 Disasters, Terrorism, and Global Public Health
POL 536 U.S. Health Care Crisis: Politics and Policies
PSY 411 Relationships and Health
PSY 426 Health Psychology
SOC 320 Social Epidemiology: Illness & Death in Society
SOC 321 Applied Health Policy
SOC 345 Population and Society
SOC 368 Violence in America 
SOC 375 Sociology of Mental Health and Illness 
SOC 377 Sociology of Drug Abuse
SOC 381 Aging in Society
SOC 480 Health Disparities in the U.S.
School of Communication
CIM 471 Social Impact Games
COS 324 Health Communication 
COS 325 Communication in Health Organizations
COS 426 Patient-Provider Communication
COS 427 Health Behavior and Risk
School of Nursing and Health Studies
BPH 206 / HCS 206 Introduction to Public Health
BPH 208 Introductory Epidemiology
BPH 301 Human Sexuality & Vulnerable Populations
BPH 305 / HCS 305 Issues in Health Disparities
BPH 309 Health & Environment
BPH 310 / HCS 310 Global Health 
BPH 317 Theories in Growth and Development
BPH 321 Health Promotion and Disease Prevention
BPH 322 Introduction to Health Policy
School of Business Administration
HSM 270 Introduction to Health Sector Organization and Management
HSM 310 Population Health
HSM 320 Health Care Demand and Supply