‌Peyton Brown, Class of 2018
Peyton is our first Foote Fellow. Each term we pick one student with a variety of activities and honors that represents a Foote Fellow in the College of Arts and Sciences.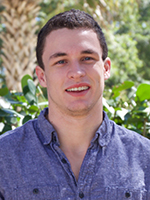 Majors:
Biology and Economics
Minor:
Chemistry
"The Foote Fellow program has given me opportunities that I  never could have imagined when I first came to the University of Miami. I have had the ability to explore numerous passions of mine and taken courses and seminars I wouldn't have had the chance to otherwise."